Bet you don't know how many stores we got?
We've featured our Gumroad store a lot on this devlog, but if that's the only place you're checking, you'll miss our $5 itch.io sale!
$5 the Lackadaisy official soundtrack
And $5 for the script/animatic combo for those who like to see how the proverbial sausage gets made.
Need a reminder of exactly what you're dropping your coins on? Assuming you've already seen the Lackadaisy Pilot, we also just released the soundtrack on YouTube with original rubberhose animation!
And I'm sure you know Iron Circus also has its own storefront as well because WOW! Our signed Lackadaisy Essentials overflow sale sold out faster than I could write this post! Anyone who bought from the overflow sale should expect their books to ship in July. Kickstarter backers who pledged for the book will receive theirs first, though, in June.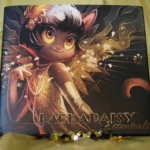 For anyone who missed out on the Lackadaisy Essentials art books, fear not! We have a Backerkit campaign coming up in July, which will feature the new editions of the Lackadaisy hardcovers as a set. We'll be introducing some plushes too! To be notified when this campaign goes live, sign up here!
If, on the other hand, you are waiting for a signed Streamily print, they are all autographed and shipped. Expect them soon!
Thank you once again for the love and support you've shown us after the pilot's release. Expect a lot more from Lackadaisy in the future!
Abyssinia! :3