Read all about us! While we will continue posting on our Twitter account as long as it's possible, Lackadaisy has other accounts you can follow:
While you're holiday shopping, the last thing you need to worry about is if your Lackadaisy merch is coming. Fear not! If you haven't received your pins yet, they are currently shipping out and will arrive soon!
We are incredibly grateful for your support, whether it's crowdfunding, merch purchases, or fan art from the cool and creative people on our Lackacord. In fact, we have a few more incredible pieces of art in what will be our last fan art showcase before the film releases (you can view the others here, there, and also here).
Thank you, as always, for being our fans and supporting us! In gratitude, here's a little composited teaser clip for ya!
We are working on the last bits of cleanup this week. Fable just finished an all-nighter and personally got the last bit of animation done so that final scene is good to go through the pipeline. Of course, there are other bits and bobs to attend to like audio and marketing. It's all hands on deck right now.
Speaking of our steadfast director, they set up a stream of the parrots on their twitch.
Plus, we have a new cat mascot in the house, Chair! Chair belongs to animator Sam Staehler.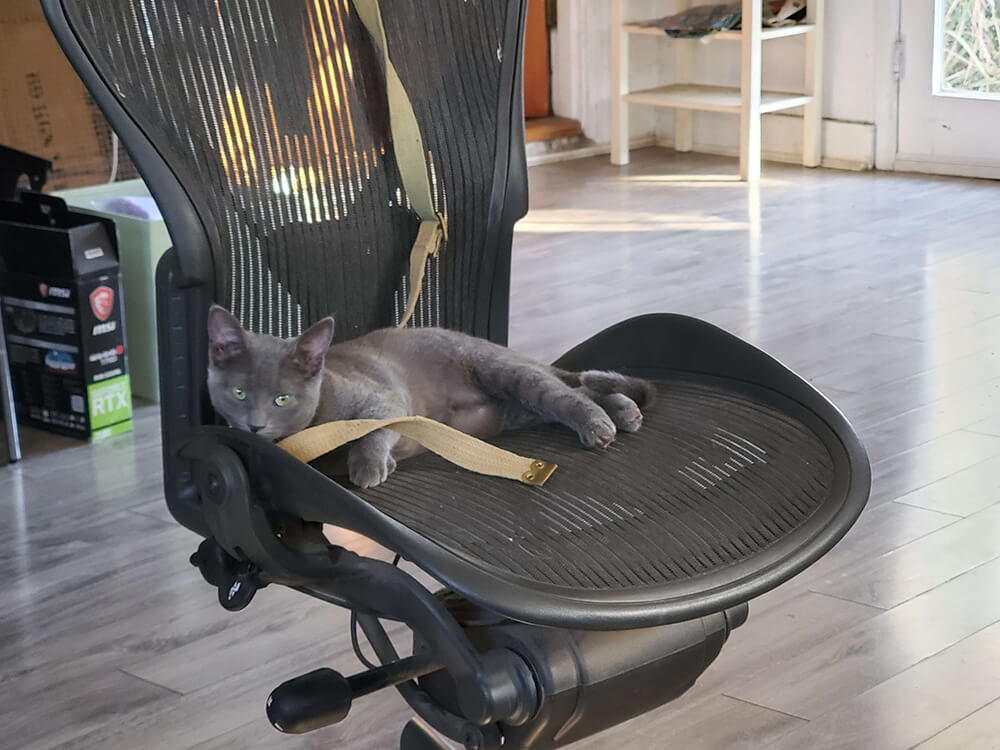 And the chair belongs to Fable… or maybe it's Chair's chair now?
Before you head out, please enjoy our the next featured animator in our interview series, the always-delightful Tea!
---
Teadora "Tea" Kankaanpää joined us last year as one of our S-tier cleanup crew. We're very grateful to have them and the others helping us out, especially since cleanup alone has taken so much manpower to complete.
Tea was the first of our last three animators to respond to our interview, which I guess tracks. According to them, they are good at procrastinating arriving stylishly late. We're just glad they're here. After interviewing with Tea, it's clear that theirs is a story about how independent artists are held up by their communities.
When did you first come across Lackadaisy?
Funnily enough I've known of Lackadaisy since I joined Deviantart for the first time 11 years ago. My sister explained what it was to me when she saw that I was admiring some of the one-off comics. Still it took me until getting hired as a clean-up artist for the film to stop procrastinating on reading the actual comic.
I'm very good at procrastinating.
What is your role in the film's production?
Initially I got the title of a clean-up artist. Though technically we should be called clean-up-colorist-toner-pre-compositors but that's a mouthful so, clean up it is. All of that is to say that we're responsible for creating the final linearts, colouring them in, carving out the lights and shadows, plus plugging all the layers to correct nodes to make compositors' jobs go smoother. It's a lot of steps that need to be done for every shot of the film.
I also got handed a few shots to animate, that is the step before clean-up. Animators look at the storyboards and breathe life into the characters by drawing hundreds and hundreds of drawings (usually 12 per second of animation) that then get handed to the clean-up department. While I also enjoy clean-up, I must say that my passion lies in animating mainly.
What led you here?
I'm part of a wonderful Discord server for queer people in the animation industry. Most of my gigs I've found through there: I got pinged over a tweet stating that Lackadaisy was looking for clean-up artists. At first I worried I wasn't good enough since I didn't really have much clean-up under my belt at the time. Regardless, I applied and voila, I'm here now. Been working with the team since August 2021.
What has it been like working on the Lackadaisy film?
Absolutely amazing! My previous job proved out not to be the greatest, the way things were handled by the higher-ups there left a lot to be desired, so when I came to the Lacka-team I was honestly over the moon. Actual feedback? Weekly meetings? Friendly atmosphere? I couldn't have asked for more!
Anything lined up for the future?
Oh pfft, I'm just a freelance animator, you can find me on most socials under the name Taigafore but I don't rly have personal projects or anything going on over there. So I guess I can instead say: read Lackadaisy!!! And support indie content overall!
---
Here's hoping your holidays are happy and your December is delightful!
Abyssinia! :3