I hope I explained things well and didn't offend anyone - if I did, please let me know and I'll correct it!
Name:
Kumiko Katsuragi
Aliases:
Kumi; Takumi is the name that is still on all her papers and is what she goes under in Japan
Species:
Cat / Breed – Oriental Longhair
Age:
25
Birthdate:
September 12
Height:
5'3"
Weight:
120lbs
Build:
Slim; she looks feminine, and her long hair falls nearly to the backs of her knees. But don't be fooled; beneath her furisode, she's actually rather fit.
Origin:
Kyoto, Japan
Languages:
Japanese, English
Occupation:
University student (grudgingly) studying business, yakuza family member
Ethnicity:
Japanese
Eyes:
Her eyes are dark green, almost brown
Hair:
Long and dark red (almost black), it goes nearly to the backs of her knees
Scars:
None that really stand out.
Fur/Markings:
Kumiko's fur is russet red, her muzzle is a dark brown, as are her ears and the tip of her tail.
Human Depiction:
Here's some human rep pics
(they're all Gackt), and
here's a lost WIP
that will never be finished...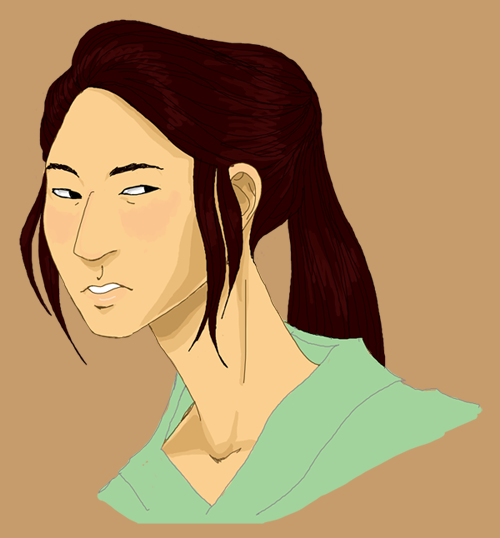 Thank you Dvorak!
Clothes:
She prefers sundresses and skirts with flats (even if they're tricky to run in), and she absolutely adores scarves in the cooler months, leaning towards autumn palettes. When dressing as a male, she doesn't put a lot of thought into her clothes and they never feel particularly comfortable - she sticks to jeans and t-shirts.
Accessories:
Wears a hair piece made of jade or a
kanzashi
—usually something similar to
this
.
WOC:
Can use a katana, though only owns a few shinai and bokken.
Appearance:
When forced to dress as a male, Kumiko keeps her hair in a low ponytail that only seems to add to the overall droopiness of her appearance - it's as though she carries a weight.
Personality:
Kumiko is somewhat shy at first but the better she knows someone, the more relaxed she becomes. Despite her anxiety, she tries to keep positive. She also has a more mischievous side among friends, often playing practical jokes or teasing. Now that she's living on her own, it becoming apparently just how much so enjoys cooking, so it's not unusual for her to cook more than she can eat, and thus her friends tend to have full fridges. Her shy smiles and laughter, however, hide a darker side of low self-esteem and the effects of years of abuse. She suffers from panic attacks and PTSD, though she hides it as well as she can, and only a few know of it.
Special skills:
Is handy enough with a bokken and shinai; is fluent in both Japanese and English (though she forgets words, occasionally)
Weaknesses:
Has a tendency to get stressed, suffers from panic attacks and general anxiety, and is absentminded
Fears:
Her father, being outed
Likes:
Green tea, momiji manjuu, scarves
Dislikes:
Overly warm weather, crowded parties
Religion:
Shinto
History:
Katsuragi Kumiko was born in Kyoto, Japan in the dead of winter to Masamu, a leader of a yakuza, and his wife Tomoko. She was designated male at birth and named Takumi. She began feel that she was female by the age of five, preferring female clothes and speech - something which greatly displeased Masamu. She was oblivious, mostly, to the fact that her father was a yakuza oyabun. Not that it was ever actively hidden from her—she simply never noticed. Her childhood was almost simple, though perhaps a bit fancier than most, and she was coddled by Tomoko until her death when she was twelve. After her mother's death, Masamu became harsher and abusive, which gave her anxiety issues, and Kumiko suddenly had to face a world without much comfort in it.
At the same time, Kumiko began to seek answers for the way she felt - particularly her feelings towards other boys, at first thinking she might be homosexual. She began to present as a homosexual male, though even that didn't feel right either - but what else was there? It wasn't until she began to read more about Kamikawa Aya that she realized fully that she was transgender. Despite finally understanding, she said nothing to her father and continued as she had, for fear of Masamu's reaction. This continued until she was sixteen and her father caught her with a boy and threw her out.
She showed up on the doorstep of her childhood friend then, and lived with him until she was 24 and moved to America to study, her father having made a deal with her that he would pay for her school so long as she studied the subjects he approved. She begrudgingly agreed, merely happy to be away from him at first and finally try to be who she felt and wear the clothes that made her comfortable. Things are, however, slowly becoming worse for her as she struggles with her courses.
Relatives:
Father:
Katsuragi Masamu
Mother:
Katsuragi Tomoko (deceased)
Cousin:
Katsuragi Daisuke
Orientation:
Heterosexual
Love Interest:
She holds a longstanding crush on
Hideyoshi Musashi
(Alt!profile coming soon?), and more recently on
Donatien "Don" Babineaux
(Alt!profile coming soon?).
Theme Song:
Crazy Sunshine
— The Pillows
Numb
— Linkin Park
Uninstall
— Chiaki Ishikawa
Defying Gravity
— Chris Colfer
Quotes:
The Original 1920 Character
Other Alt Chars.