Name:
Vincent Marion Smith
Aliases:
...
Birthdate:
December 19
Age:
41
Height:
5'5"
Build:
Average
Origin:
Kansas City
Languages:
English
Occupation:
Deputy Chief of Police
Ethnicity:
If you did a bit of digging and asked around in the right parts of KC you might find folks who swear he grew up Irish
Eyes:
Brown
Hair:
Prematurely gray
Scars:
He's been shot twice, both in the line of duty. Left arm is scarred up from a fight involving a broken bottle (definitely not in the line of duty)
Attire:
Uniform when on duty. Otherwise, a nice but unremarkable suit. He saves the fancy one for church.
Accessories:
Cigarettes and some thick-frame round glasses that he uses for reading
WOC:
Standard-issue sidearm which he carries at all times
Appearance:
Vincent has narrow eyes, dark eyebrows, pale skin, and a thin-lipped mouth. His face is broad and flat; he has a strong jawline and his nose is an almost perfect triangle. He's trim and compactly built, with broad shoulders and hard, callused hands, lingering suggestions of a life before a Deputy Chief's administrative duties. Despite his stature, he's stronger than he looks. His face is not easy to read.
Personality:
Ambitious, manipulative and cutthroat, Vincent makes for a formidable enemy--or a powerful friend, if you play your cards right. This involves a willingness to line his pockets and provide favors as he calls them in. Complain, and you might find yourself cooling your heels in jail. That's the best case scenario. Rumor has it a number of Vincent's former associates who got above themselves wound up face-down in a ditch, or at the bottom of the river somewhere.
In a sense, he's leading a double life. His home and church are strictly off-limits to associates with even the slightest tang of the underworld about them. Keeping up appearances is of great importance to Vincent. His wife doesn't seem to know what he does. Nor is he content to remain Deputy Chief of Police. Local elections are looming on the horizon, and Vincent is always looking ahead to the next step--in this case, politics. He would, of course, be running on a dry platform. He drinks as much as the next man in the privacy of his own home, but at heart he's a pragmatist. Prohibition's been good for business.
Special skills:
Extortion, blackmail, handling bribes, stealing money, arresting bootleggers to confiscate their product and then sell it himself, threatening, interrogating, systematically discrediting anyone who might expose him, ice-cold betrayal, getting what he wants
Weaknesses:
Carefully protects his reputation
Fears:
Poverty, prison, divorce
Likes:
Money, power, hashbrowns with eggs and bacon
Dislikes:
Insubordination, soggy toast, anyone who thinks they can beat him at his own game (try it, he dares you)
Religion:
Presbyterian
History:
Vincent's past is murky. He prefers it that way. It seems he grew up in a working class family, joined the police straight out of high school, and moved to St. Louis, where he met his wife. He rose quickly through the ranks and made a name for himself as a sharp young officer dedicated to upholding the law. It's hard to say how or when he went bad--whether it was a gradual descent into amorality or whether he was driven to it by a single cataclysmic event. Then again, maybe he's been bad all along and most folks just never notice until he turns on them. In any case, he's a powerful man these days in St. Louis. Nothing good happens to people who cross him.
Orientation:
Straight
Love Interest:
His wife, Elizabeth
Quotes:
"Keep your hands where I can see them. Now step out of the car."
"Elizabeth! How is it that I can't find a single pair of black socks?"
"You have no idea who you're dealing with."
_________________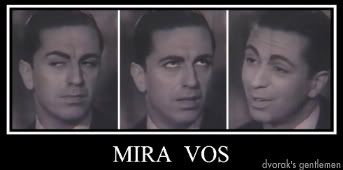 "Because studies have shown that dvorak's a genius" - Dass
"On a side note, dvorak, looks like the Pope is recognising your authority in Sainting people. Can only be one person representing God on earth at a time" -TFP