I'm looking for somebody to use with
Ignatius
!
Because I'm both lazy and ambitious, I'd like to invent a history between him & your character before our RP even begins. That way we can skip over the chance meeting, what's your name, etc and get right to the exciting stuff.
Maybe your character is someone who knows him from home, or from a few years earlier (male or female). Maybe a drinking buddy--they can get into trouble! Maybe a prospective employer, or someone whose dirty work he's done in the past. Maybe an ex-girlfriend, or a girl he pined over who was smart enough to friend-zone him, stat.
His profile history is mysterious and vague, purposefully so, but I have a general idea about him. Also, I can tweak anything to make his history fit with your character's!
_________________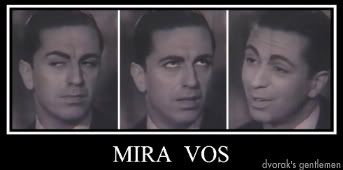 "Because studies have shown that dvorak's a genius" - Dass
"On a side note, dvorak, looks like the Pope is recognising your authority in Sainting people. Can only be one person representing God on earth at a time" -TFP