Can I just say that this may be the single best thing I have ever read
Fotecp wrote:
"Bellemare," said Max, warmly, his hands palm-up in welcome as if the bridge were his. "I'll be damned if you haven't gotten handsomer. And so high up in the underworld, you've nearly reached the surface. Why, you even have a secretary!" He looked on with a dazzling smile, as if the strange turns of fate that had bestowed a secretary upon Bella were, to Max personally, of the utmost delight. He'd heard the female voice on the telephone when he called earlier that day. Max winked conspiratorially. "Is she cute? I bet she's cute."
Incidentally, I can't stop rereading it. Maaaaaaaaaaaaax.
_________________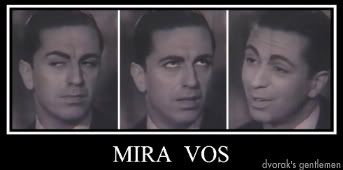 "Because studies have shown that dvorak's a genius" - Dass
"On a side note, dvorak, looks like the Pope is recognising your authority in Sainting people. Can only be one person representing God on earth at a time" -TFP