He didn't walk like a man who had an appointment to keep.

Rather, he meandered, taking his time, weaving his way through the city on foot. It was a rare luxury. But then again, Elliot Bellemare was feeling self-indulgent.

He whiled away almost an hour at seedy little kiosks, thumbing through postcards and magazines of moderately ill repute. It wasn't too long before the novelty of this wore out, and so he bought himself some cigarettes and a chocolate bar and sauntered on his way. Say what you would about Bella; he was a businessman at heart. Deliberate idleness was not his forte. Instead, he merely walked at a very slow pace, checking his watch every few minutes to track his progress. But even this was a little too fast, so when he passed a pay phone, he counted his pocket change, ran through a mental list of his numerous relatives, ruled out the chattiest ones, and finally settled on a step-cousin in Brooklyn who had recently celebrated a birthday.

The following conversation, though mercifully brief, was precisely as torturous as one might expect. After hanging up, he wracked his brain for any further means of procrastination. Finding none, he ruefully allowed himself to arrive a mere twenty minutes after the appointed time.

After all, he knew the man in question. It occurred to him to wonder whether twenty minutes would even be late enough.

Surprisingly enough, it was. He caught sight of a vaguely familiar silhouette in the blue dusk. His own steps, however, remained measured and unhurried. After all, Max Avramescu had kept him waiting before. It seemed only fair to return the favor.
_________________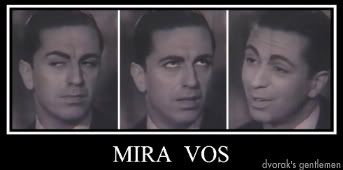 "Because studies have shown that dvorak's a genius" - Dass
"On a side note, dvorak, looks like the Pope is recognising your authority in Sainting people. Can only be one person representing God on earth at a time" -TFP