Elif's dark eyes narrowed, flickering fast over the interior of the bar. Her military experience had taught her that all too often, there was
not
, in fact, another way out. One glance at the bartender's panicky face confirmed her suspicions. She cursed her own carelessness at having stepped into what was essentially a trap in the first place. Worse still, she had thoughtlessly left her gun at the house; this had been a last-minute, impulsive stop, not at all part of her usual routine. So little time in America, and already she was going soft.
She had no trouble anticipating the worst-case scenarios. Either it was a rival gang, who would most likely shoot blindly into the crowd, or it was a police raid, in which case she would be arrested and probably deported. But she'd also seen enough panicked mobs to know that they were equally at risk of being trampled to death by a frenzied crowd with nowhere to go.
Wordlessly, she seized Adrian's wrist in an iron grip and dragged him behind the bar, heading for the storeroom where the bartender had gone for her whiskey. The bartender was frantically scrambling to load a shotgun he'd pulled from behind the counter, and didn't spare them so much as a glance. It was a discrete door, one which blended well with the surrounding panels, particularly in the dim light. Having seen it previously, Elif quickly located it, pushed it open, and yanked Adrian inside just as the first gunshots rang out behind them and the room erupted into screams.
_________________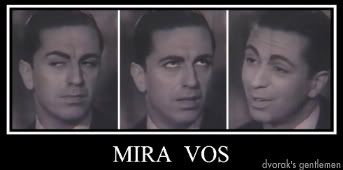 "Because studies have shown that dvorak's a genius" - Dass
"On a side note, dvorak, looks like the Pope is recognising your authority in Sainting people. Can only be one person representing God on earth at a time" -TFP