"You'll be the first to know." His words were punctuated by a droll smile, just as colorless as the last. He settled back into the cushions, shifting restlessly at the unaccustomed softness. When at last he fell still, he was seated diagonally in the armchair; rather than lie easily against the backrest, his back was settled against the corner, leaving him angled outward into the room. Despite the sleepy look of his pale skin and heavy eyelids, he was on high alert in this unfamiliar space.

The waitress approached them, all smiles, and suddenly that uneasy langor vanished. As he relayed Riley's order, and then his own request for a cinnamon coffee with cream and sugar, he smiled in all the right places, and his tone was effortlessly polite. He wore the mask well, assuming his performance was a conscious one. Coming from a background like his, it was also possible that his manners had been so exactingly drilled into him that in a public space like this, it would've cost him more effort to be rude than to drift along on the easy currents of his social training. The way he'd behaved in prison was hardly a reliable indicator of how he'd comport himself out here, mixing with the general population. Behind those bars, all bets were off.

Then again, depending on Riley's interpretation, it was equally likely that this was a glimpse of the way he'd been then. Civil and smooth with absolute strangers--charming, even, in a remote sort of way, with just enough bourgeois apathy to come across as aloof. Enticing. Riley, however, had already seen shades of the ugliness he was capable of, the brutal violence he could transmit through words alone, without even laying a hand on the target of his animosity.

Prison hadn't spun that out of thin air.

"So," he said, once the waitress had turned to go. "Frankly I'm a little surprised at you, Officer. Cocoa, coffee, honey. It sounds appalling, but I'll confess you've piqued my curiosity. At the risk of seeming forward, I'll trade you sip for sip."
_________________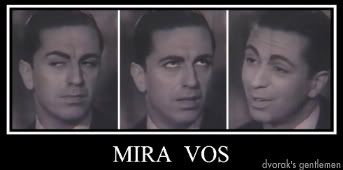 "Because studies have shown that dvorak's a genius" - Dass
"On a side note, dvorak, looks like the Pope is recognising your authority in Sainting people. Can only be one person representing God on earth at a time" -TFP