"Yes. Yes, of course," he said, and clamped his mouth shut. These days, one heard all sorts of chatter about the free-wheeling ways of younger generations. Ansel did his best to ignore it, of course, but he'd nonetheless gotten the impression from somewhere that these days, young women in particular were wholly unconcerned with the strictures of contemporary morality. So much for that.
For his own part, Ansel wasn't exactly eager to rush into a commitment of any sort, much less a marriage of convenience. Still, he admired her spirit and thought that, while he didn't feel any strong or immediate attraction, over time he could become quite fond of her. Their coexistence, he suspected, would be an easy one, thanks in a large part to her independence. That was perhaps the single most important quality he valued in a woman.
He led her briskly past the snakes and the little crocodile pool. They were nearly through the lizards before he stopped again, abruptly. This time he turned to face her, the hand on her arm giving just the slightest tug to suggest that she should stop as well.
"Miss Falck, before we go outside--" But before he could speak, a blast of wind and energy swept past them in the form of a group of schoolboys. They crowded immediately around a large, glassed-in enclosure on the opposite side of the hall, pressing their faces to the window and rapping noisily against the glass. Ansel swallowed a long-suffering sigh, his face an epitome of barely-contained distaste. He looked over his shoulder at the jostling crowd of children, apparently unaccompanied by adults, then back to Veronika, then back to the boys. Clearly there was some sort of inner struggle playing out in him.
His biologist's instincts, it seemed, won out.
"Excuse me for a moment, Miss Falck." Without waiting for a reply, he spun sharply and strode across the hall. "Boys!
Boys!
Stop that, you mustn't-- Don't--"
He might as well have been invisible. The children continued shouldering closer to the exhibit, smearing popcorn-grease handprints on the glass as they tapped and knocked, trying to provoke some reaction from the creature within. For an instant his shoulders slumped: the very picture of an impotent middle-aged gentleman completely out of his depth. And then--
"BOYS." Shoving to the front of the small crowd, he grabbed a few children by their collars and bodily hauled them back until they appeared to get the message. "What the
devil's
got into you?" There was a harshness in his voice that seemed to command the children's attention. For a moment it seemed he was about to give them a fierce scolding. Instead, his volume dropped back to normal, although his gaze stayed sharply focused on the kids, scanning the front row in particular. In his eyes was a dangerous sort of look, the kind that dared anyone to try anything. For the most part, being shouted at by an unknown adult in fine clothes was enough to bring them to a momentary standstill.
"Would you like it if a crowd of giant lizards came to tap and scream at your window?" The kids shuffled awkwardly and exchnged sidelong glances. Ansel flashed a brief, humorless smile to show that he'd been joking, and it was permissible to show some amusement. "Now you may not be aware, but this is only the fifth
ever
Komodo dragon to live in captivity. So we want him to live a good, long life, because people come from all over the country to see him and learn about his species. See, he's not looking at you--because you don't interest him. He was fed earlier this morning. If he starts to look at you, it's because you're about the right size and shape for his dinner."
Just then, a pair of nuns swept around the corner, strolling at a leisurely pace. Ansel's eyes snapped from the children to the nuns. Immediately he disengaged from the crowd and peeled away, heading straight for the nuns at a purposeful clip. The boys, on hearing that they resembled the creature's dinner, had inched back a bit--still closer than Ansel would have liked, but at least they weren't touching the glass anymore.
"Sister. Sister," he began, nodding once to each nun in turn. Then he pointed to the school group. "Are these yours?" Without waiting for a reply, he forged on. "...because they are an absolute menace to the sensitive species. Screaming? Pounding on the glass? Those boys are completely out of control. The disrespect they've shown towards animal life is, quite frankly, appalling. Virtually every man on the Board of Directors is a personal friend, and it is well within my ability to have you and every one of your classes banned from this zoo for life. Do I make myself clear?"
The nuns stared at him, goggle-eyed, their mouths slightly ajar. One of them started to protest, but before she could say anything, Ansel cut her off with a brief, cheerful "Have a fine rest of the day, ladies," and walked away.
When he returned to Veronika's side, he heaved a sigh and ran a hand over his face. "I apologize for the interruption. I'm sorry, what were we talking about a moment ago?"
_________________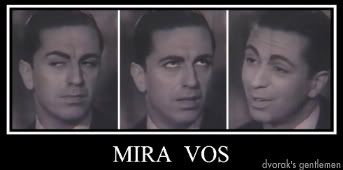 "Because studies have shown that dvorak's a genius" - Dass
"On a side note, dvorak, looks like the Pope is recognising your authority in Sainting people. Can only be one person representing God on earth at a time" -TFP