Ansel's initial reply was little more than a pained smile. Oh yes, he was aware. Because as much as he would have preferred to stay in New York, he had nonetheless done his best to fashion the Saint Louis property into a refuge and a home... as much as a wanderer like Ansel could be said to have a home. He'd had the house remodeled to his taste. Meanwhile he and his staff had lived on the grounds, first in tents, then in the small cabins that lined the far side of the back lawn. And when construction was completed, he'd moved in, filling the house with things that eased his misery: his books, his projects and papers, the photographs and souvenirs of his travels, the people he liked most in the world.
On the one hand, he hated the house and what it represented: an exile, a cage, a burden. On the other hand, it truly had become his refuge, one of very few places where he could find absolute relief from the judgments and demands of the rest of the world (including his unbearable brother and meddling sister, among others). His aversion to the Prytzes was not merely a distaste for the obligations of hosting. Rather, it was everything they represented--not least of which was an incursion into his private sanctuary, upsetting the delicate balance which had kept him, thus far, out of complete and abject misery in his exile. He wondered whether Veronika understood, whether she could even begin to understand.
--no, that wasn't entirely fair. The girl seemed perceptive enough, in her way. Of course she was. Despite the impersonal nature of his proposal, he wouldn't have made the offer to someone he expected would drive him insane. Not that he felt anything for her, but the
absence
of dislike was at least a better foundation than most high-society marriages were built on these days. Judging from what little he'd seen, he suspected he could become genuinely fond of her in time, if given the chance. And she was young, and nice-looking enough, he supposed, though not really his type.
Outside the doors, her family was waiting.
Rather than reply, he merely stepped ahead to open the doors. And as he did so, she would clearly see the change in his face: from the direct, businesslike man in control of his circumstances, to the distant, distracted expression: he wore absent-mindedness like a mask, and it excused his flaws to the world.
Sent his chauffeur to pick us up at the station... Rooms not prepared, full of taxidermy projects and exotic artifacts... Late to dinner on his guests' first night...

Oh, well, that Vanderberg. Bit absent-minded is all.
And this way, he hoped, the Prytzes would be neither encouraged nor disappointed. Catching a glimpse of his vacant gaze, they would merely assume he had drifted away into his own thoughts, had not paid Veronika enough attention to succumb to her obvious charms. Neither her fault nor his--just the way he was.
So he hoped.
"Very well then, Miss Falck. After you."
_________________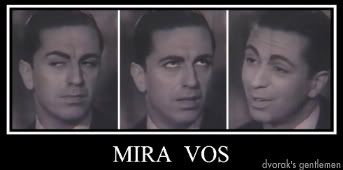 "Because studies have shown that dvorak's a genius" - Dass
"On a side note, dvorak, looks like the Pope is recognising your authority in Sainting people. Can only be one person representing God on earth at a time" -TFP