A part of Fritz wanted nothing more than to crawl into a hole. His stomach was twisted with anger and fear, his throat tight with remorse. He felt assaulted, harassed in his own home. In that moment, the only thing he wanted from Darla was for her to go away and leave him alone.
But then again, he'd never listened to his good sense when it came to backing down from a fight.
"Oh please," he snapped. He hadn't bothered to rise to his feet, not just yet, but his head was now tilted up at a haughty angle, his face turned away from her. Then again, she wouldn't need to see his face. His tone of voice said it all.
"Don't act as though you've sleuthed out some sordid truth. This isn't one of your stories. I never hid a damn thing from you, and you married me anyway. You don't get to
decide
to have qualms about it now."
_________________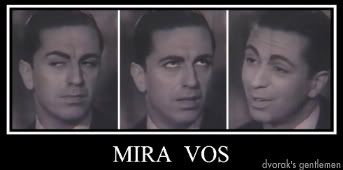 "Because studies have shown that dvorak's a genius" - Dass
"On a side note, dvorak, looks like the Pope is recognising your authority in Sainting people. Can only be one person representing God on earth at a time" -TFP