"<Such a latent entrepreneur, you bad socialist you.>" An insolent grin split across his face and just for a moment, he leaned forward and pressed his face against the side of Raphael's neck. His stubble scratched against smooth brown skin. "<Anytime you want to slap on some dirty berets and play 'Sierra Maestra' just say the word.>"
Raphael's hand moved across his body. He shifted into the touch, catlike. From the instant Raphael's weight settled onto the mattress, Sascha had been attuned to his presence: heat, scent, proximity. It was a keen, animal awareness; like some electroreceptive creature reading the pulses and currents that crackled soundlessly across the thick air between them. A moment later, his fingers closed around Raphael's forearm, stalling the progress of that hand. He kissed the curve of Raphael's shoulder, just below the outer edge of his collarbone.
Then, without warning, he plucked the book from Raphael's hands and flopped back onto the pillows. Raphael would receive one lingering, suggestive look from over the top of the pages before Sascha dropped his gaze to the text. The rest of the invitation was spelled out in the provocative splay of his body across the mattress, in the angle of his limbs. One of his legs was draped casually across the Cuban's lap. Sascha stretched, arching his back, and settled back against the bed.
Cracking open the book, he saw at once that a good two-thirds of the preface were missing. Then came some kind of Biblical quote. With a mercenary instinct, he skipped over that, too, and began with the first line of the prologue: "
El Alquimista agarró un libro que alguien de la caravana había traido.
"
His German was bad, worse than he remembered. He'd always thought of this as a simple story, simple to the point of stupidity, not to mention the philosophical-spiritual angle, which he considered drivel. Still, he found himself struggling over vocabulary. Rather than admit to ignorance, he merely skipped over or summarized, rephrasing on the fly based on his best guess derived from context and memory. "
El libro no tenía cubierta pero pudo identificar a su autor,
Oscar Wilde," pronouncing the name like a native Chicagoan.
The first time this book had crossed his path was nearly twenty years earlier. He'd been in third grade then and he, too, had heard it read aloud. His parents had briefly employed a Chilean au pair in the hope of teaching Sascha to read and write, as well as speak, in Spanish. He still remembered the floral scent of her hair as she leaned over him to correct a spelling mistake, one he'd manufactured on purpose in the hope of luring her closer. Rocío, that was her name. A sweet girl. She'd lasted nearly three months before Ignaz Dautzenberg's connections apprised him of her situation. It seemed she'd fled Chile as a university student, escaping the dictatorship, had mixed with a leftist crowd while studying in the Faculty of Letters; that in fact, most of her circle had wound up in clandestine detention centers to face interrogation and torture, to join the faceless ranks of the
desaparecidos.
Ignaz had come home from work that day and fired her, and by the next morning she was gone.
She'd taken her copy of
The Alchemist
with her.
Sascha's translation, meanwhile, was not, strictly speaking, a good one. It was slapdash, full of regionalisms: Argentinian, slangy. Still, despite it all he managed to keep his voice even and the pace steady. The same cigarette-roughness still hung about the edges of his words, as through his throat were lined with scorched paper. It was a bit flatter than his normal tone, and not particularly expressive. It made him sound just the slightest bit bored of his own performance. He reached the end of the prologue--one page, a scant two paragraphs. Then, leaving the book open and flat against his chest, he sprawled out on the bed and exhaled as though he'd just run a dead sprint.
_________________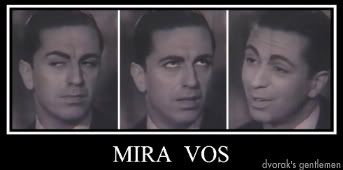 "Because studies have shown that dvorak's a genius" - Dass
"On a side note, dvorak, looks like the Pope is recognising your authority in Sainting people. Can only be one person representing God on earth at a time" -TFP