Should we
was definitely the wrong choice of words. This thought provoked in Fritz a little twinge of guilt, which manifested as something like an oasis in the torrid desert of his moral landscape. He was not about to get worked up over as flimsy a matter as Danny's unfortunate choice of words. Still, he had the good sense to keep his mouth shut about it.
He'd made his decision, and wasn't about to punish himself agonizing over it. A little discreet perfidy wouldn't hurt anyone, so long as Danny kept his big mouth shut.
Propping himself up on one elbow, he spent a moment just quietly watching Danny. Fritz, when in a talkative mood, was chatty in the extreme; it was easy to overlook the way he was just as often silent, simply watching and taking in his surroundings. Truth was, watching Danny's bowed head, watching the muscles move in his shoulders and arms, he felt the faint stirrings of possessiveness, made all the more exciting by its transgressive nature. Like in the instant at the little wedding reception when he'd pulled Darla into a kiss and locked eyes with Danny over her shoulder. She hadn't seen, of course. She'd closed her eyes. But Danny had seen, and he knew it, and in that moment he'd felt a thrill unrelated to the woman in his arms, or the ring on his finger. In a split-second it was over, but he hadn't forgotten, and wondered now whether Danny remembered as well.
His free hand went to the nape of Danny's neck, fingers half-tangling in his hair. He sat up and, with a grip that was somewhat more demanding than coaxing, drew Danny up to pull him into a kiss.
That was it; the best of both worlds, and nothing sacrificed but a lingering sense of propriety which was more nuisance than asset in the long run, anyway. He was the cat that not only ate the canary, but knew full well he'd be getting away with it, too.
_________________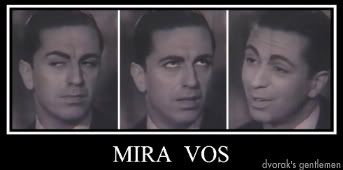 "Because studies have shown that dvorak's a genius" - Dass
"On a side note, dvorak, looks like the Pope is recognising your authority in Sainting people. Can only be one person representing God on earth at a time" -TFP