He puffed out his cheeks and exhaled a long breath. "Hell if I know."
Truth was, he'd avoided Billy as much as possible. The little man made him uncomfortable, the same way he was awkward around nuns. Oh, he knew Billy managed a speak of some kind across town, but he and Fritz came from different worlds. Of that there was no question. There was something gentle in him, almost fragile. He seemed thoughtful, sensitive, kind.
In short, he was unbearable.
Of course, Fritz would have vehemently disagreed with the idea that he and Darla might present a similar conundrum. Darla was nothing like Billy--or at least, nothing like Fritz's loose impression of Billy from the few meetings they'd had. Sure, she seemed timid and sweet, and spoke with an occasional stutter. But she had a fire in her, a danger, an intensity. She was the kind of girl who'd greet her long-lost brother by stabbing him, repeatedly. That was what had attracted him to her in the first place--not just her facade of the shrinking violet in need of protection, but the combination of the two. It was the knowledge that at the heart of her was iron.
A sudden stab of anxiety hit him. Maybe he was the one making a mistake. But it was too late for second-guessing, and anyway, Fritz had never been one to believe that the rules really applied to him.
"Are you better off now than you were? I mean, do
you
think you made a mistake?
_________________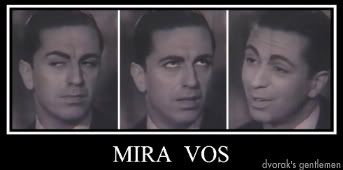 "Because studies have shown that dvorak's a genius" - Dass
"On a side note, dvorak, looks like the Pope is recognising your authority in Sainting people. Can only be one person representing God on earth at a time" -TFP